Stainless Steel & Glass

This page was last updated on 6/29/10.
PLEASE NOTE: Do not use the "Send email" tab above and elsewhere in this web site. It currently is inoperative. You may email directly to me at <<birchpond@compuserve.com>>
The wall and window sculptures shown below are bright and durable, even in outdoor use. I use type 304 (food service grade) stainless steel, which resists corrosion exceptionally well. I often keep several stainless and glass wall pieces in "vertical storage" on an outside wall of my studio for months, leaving them exposed to snow and rain. If I need to take one to a show, the most cleaning I need to do to get them ready is apply a little Windex. For stubborn stains such as tree sap or bug spots, I use "Nevr-Dull" stainless steel cleaner, available at marinas and hardware stores.
The pieces shown here represent only a sampling. I can make them up in any size to four feet wide or more. My standard size is 22 inches in the longest dimension. You may view additional designs by clicking on the Fine Craft button and then the Ornaments button. Each individual design is exact from piece to piece, but any color of art glass (stained glass) can be added to make each piece truly unique, or the steel may be left without glass. Several of the most popular colors may be viewed by clicking on the Glass Samples button above. Give me a call or drop me an email and I'll be happy to discuss a project with you or send digital photos of work currently in my studio. Call for prices and details.
| | | | |
| --- | --- | --- | --- |
| Balloons | Typical Sizes | Cat | Clown Fish |
| Dolphin | Outdoor Dolphin | Eagle | Golfer |
| Golf Girl | Heron | Heron with Mirror Glass | Heron |
| Horse | Humming Bird | Key West Light | Cruiser |
| Spade Fish | Heron | Locomotive | Ticonderoga |
| Ogunquit Gallery Installation | Cruiser | Pelican | Scuba Diver |
| Spade Fish | Downhill Skier | X-C Skier | Spade Fish |
| | | | |
| --- | --- | --- | --- |
| Heron with new 2002 glass color | Moose | Wolf | Yacht Club |
| | |
| --- | --- |
| Cat with mirror backing, 22" high | Music theme with mirror backing, 22" high |
An illuminated wall sculpture: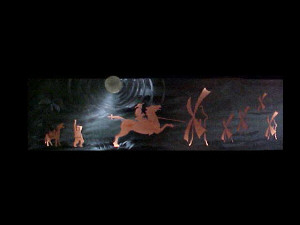 "Impossible Dream" Illuminated stainless steel wall sculpture of Don Quixote. 45" wide x 13" high...........SOLD
| | | |
| --- | --- | --- |
| "Impossible Dream" Detail of left hand portion. | "Impossible Dream" Detail of Sacho and his donkey. | "Impossible Dream" Detail of central portion of sculpture, showing Don Quixote attacking a windmill. |
| "Impossible Dream" Detail showing sun. Sun is covered in 23-karat gold leaf. | "Impossible Dream" Detail of right hand portion of sculpture, showing birds and windmills. | "Impossible Dream" Detail. All figures are cut in the stainless steel and backed with stained glass, which is wired and electrically illuminated from behind. |
...these are stainless steel without glass backing:
| | |
| --- | --- |
| "Cat", 12-gauge stainless steel, approx. 16 inches high. | "Hound", stainless steel. Privately commissioned. SOLD |
These are some design renderings for customers:
| | |
| --- | --- |
| Shaker Chair pin design #1 | Shaker Chair pin design #2 |
| Ruffed Grouse design for stainless steel | Military Families logo design rendering |
| Wave design for stainless steel, based upon a 17th Century Japanese motif | |
| | |
| --- | --- |
| Apprentice Dutch Huff grinds a stainless steel fish school for a customer. | Corporate logo in stainless steel and cobalt glass for Open Source Publishing, Inc. of Leesburg, VA. SOLD |